Pastures
The best breeding conditions for 100% Iberian pigs are found in the meadows of Spain and Portugal. The health and nutrition of our Iberian pigs is the secret to the quality of the meat and the incredible taste.
The Iberian black pig is raised freely in the meadows, mainly in Spain and Portugal. It feeds essentially on acorns and the natural grass that grows in the fields, both sources of protein and vitamin E, which provide a unique taste and healthy properties.
"The Iberian Pig is often referred to as the happy pig, not only in terms of animal welfare, but also because it enjoys the pastures, the grass and especially the acorns, which are of very good quality."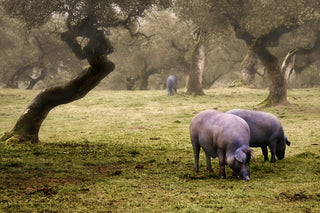 A "montanera"
Considered in Portugal and Spain the most important season of the year for Iberian black pig breeding, it means that the animal can walk between 12 and 14km a day to feed.