The Taste of Tradition
The improvement of each piece corresponds to a slow ageing, in our dark and silent cellars, where the ham remains at a constant and natural temperature for several months.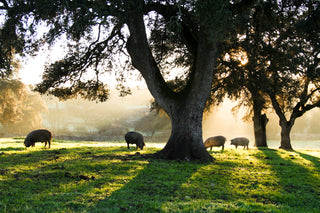 Ham Iberian Black Pork
Pata Negra Ibérico ham comes from pigs that are 100% Iberian, also known as pure Iberian breed. The Iberian Black Pig is bred mainly in Spain and Portugal and is especially characterised by the purity of the breed and its extensive free range rearing. Pata Negra remains faithful to its origins and preserves the incomparable flavour of the Ham. The result is a soft ham, with an intense and unique flavour.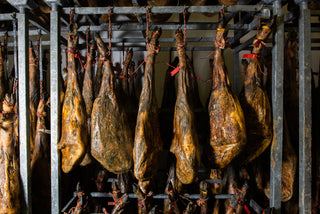 Bolota (Acorn-Fed) Ham
Acorn-flavoured ham is distinguished from other hams by its high quality and exceptional characteristics. The pigs are free-range and fed on acorns, which gives the ham its unique properties. Genetics and the inexistence of crossbreeding with other breeds guarantee the meat greater fat infiltration. This guarantees an unmistakable taste and texture.